Taj Mahal Emperor's rare dagger to be auctioned
LONDON (Reuters Life!) - A gold encrusted dagger once owned by the Indian Emperor who built the Taj Mahal could fetch $1 million when it goes on sale next month, experts said on Friday.
The dagger, once part of Shah Jahan's collection, is dated in the years just after the Mughal Emperor came to power in the 17th century.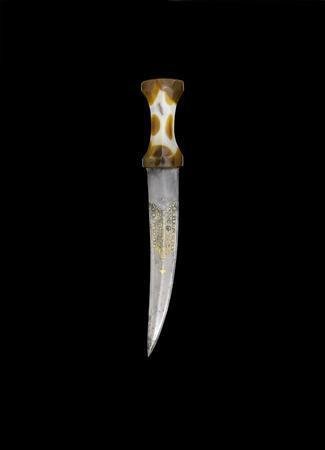 Inscriptions on the back of the blade include Jahan's official titles, date and place of birth, and an "honorific parasol" -- an ancient pan-Asian symbol of divinity of royalty, according to Bonhams auction house.
Jahan, who ruled from 1628 to 1658 -- and is said to have had a love of beautiful objects -- built the majestic mausoleum as a memorial to his wife Mumtaz Mahal whose death during the birth of their 14th child devastated the ruler.
In his last years, the emperor was imprisoned by his son Aurangzeb and is said to have spent his remaining days gazing at the Taj, located on the outskirts of Agra city, from his prison cell in a nearby fort.
His dagger is one of several items that are being auctioned from the private collection of wealthy French textile businessman Jacques Desenfans.
"The fabulous sardonyx-hilted dagger ... is typical of Shah Jahan's taste and character in a number of ways," Scottish historian William Dalrymple, wrote earlier this year.
"The hilt reflects his love of rare and previous stones; its workmanship represents the skills of the Mughal atelier at this peak of refinement... and the weapon itself is emblematic of its owner's sometime murderous tendencies."
The dagger will go under the hammer in London on April 10.
(Reporting by Andrew Hough; Editing by Jeremy Lovell and Paul Casciato)
© Thomson Reuters 2021 All rights reserved.