Cities grapple with surge in abandoned homes
By Jason Szep
WORCESTER, Massachusetts (Reuters) - On Lagrange Street in New England's second-largest city, two brick apartment buildings stand side-by-side in varying stages of decay -- boarded up, "No Trespassing" signs affixed, paint peeling.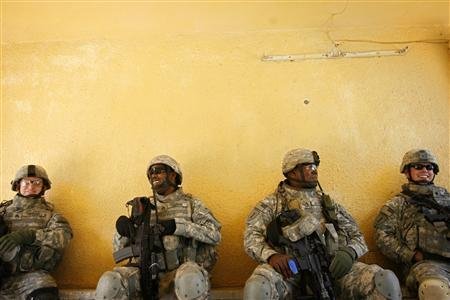 Across the street, a condominium complex is on the brink. Three of its eight apartments are in foreclosure.
Like many cities in the United States where the home vacancy rate has scaled its highest since records began in 1956, the former textile mill city of Worcester in Massachusetts is turning to the courts to fight back.
Their target: banks who abandon properties and who leave behind a glut of empty, dilapidated houses that draw crime, cut tax revenue and depress nearby property values in a market already in a tailspin.
"This is the trenches here. We've got to stabilize our community," said Worcester city manager Michael O'Brien in a sidewalk interview outside the foreclosed condominiums on the quiet street in a Hispanic neighborhood.
The city of 175,898 people, a munitions depot during the U.S. Revolutionary War, offers a window into how U.S. cities are grappling with a wave of foreclosures that has pushed the U.S. homeowner vacancy rate to a record 2.8 percent in the fourth quarter of 2007 -- or about 1 million homes.
Like many U.S. mayors and city officials, O'Brien blames "predatory" lending practices prevalent in the U.S. property boom for the lion's share of about 4,220 mortgages in his city that are either in, or at risk of, foreclosure.
In February, he began asking judges to assign property managers to buildings at the expense of the mortgage companies. The idea is to stop tenants from being abruptly tossed out of a foreclosed home and to provide enough basic maintenance to keep it from getting condemned.
Other cities are pursuing even more radical measures.
LAWSUITS
In western New York, the city of Buffalo filed a lawsuit on February 21 against 36 lenders -- including big names like JPMorgan Chase & Co Inc and Countrywide Financial Corp -- who were involved in 57 foreclosures that led to properties being abandoned and ultimately demolished by authorities.
The struggling Rust Belt city, plagued by about 10,000 vacant homes and commercial buildings, estimated the 57 foreclosures cost Buffalo $1 million in demolition work and another $1 million in nuisance costs -- from police patrols to boarding up buildings, to the social toll on communities.
"We have found homicide victims in these structures," Buffalo Mayor Byron Brown said in a telephone interview.
"Dog fighting has taken place in these structures. Drug dealing has been conducted. Last year one of our fire fighters was critically injured, losing one of his legs from the knee down, fighting a fire at a vacant structure," he said.
Alisa Lukasiewicz, who runs the city's law department, said Buffalo drew inspiration from similar lawsuits in Cleveland and Baltimore. "These properties are in a state of legal limbo," she said. "Banks walk away. The homeowners are gone, and the property is still there."
The city also launched "Bank Day" in a housing courtroom to consolidate cases against lenders into one afternoon each month. About 50 cases are pending, mostly against creditors accused of housing code violations -- from trash-strewn lawns to chipped paint and collapsing ceilings.
In some cases, mortgage companies threaten foreclosure if borrowers fall behind in loan payments but never go through with it, leaving the borrower technically the property's owner and complicating efforts to revive an abandoned home.
"Another big problem we have had is this new wave of lending," said Cindy Cooper, a Buffalo city prosecutor who specializes in housing. "It's difficult to work out who holds the note, who is in control of a property. These mortgages have been packaged into portfolios and sold on Wall Street."
HOMES FOR A $1 EACH
Further east, Syracuse, New York, began selling vacant homes last year for $1 each to non-profit groups who promise to tear them down or renovate them. Last month, Syracuse Mayor Matthew Driscoll extended the deal to private companies.
The aim is to get abandoned homes back on the market in one to two years and back on the tax rolls.
"The foreclosure crunch has now meant that no neighborhood is exempt from having a vacant property pop up," said Kerry Quaglia, executive director of Home Headquarters, a non-profit that demolished about 100 homes and renovated 40 last year.
Some cities such as Cleveland are developing land banks to buy and either demolish or repair distressed properties.
"Because of the foreclosure crisis we are seeing this incredible glut of inexpensive distressed houses being sold at pennies on the dollar," Cleveland city councilman Tony Brancatelli said in a telephone interview.
"The mortgage companies don't want to hold onto them so they are dumping them on the Internet at a rapid rate. People are buying them 15 to a 100 at a time," he added. "One of the most significant parts of the land bank is stopping this cycle of abandonment."
Rhode Island, the nation's smallest state, is planning to fine homeowners 10 percent of a building's value if it remains empty a year after receiving a warning from the city, giving creditors incentive to unload vacant buildings even at a loss rather than to keep them and pay the tax.
David Cicilline, the mayor of Providence, Rhode Island, said the reasoning was simple: "When you have people living next to a house that is boarded up and vacant, it becomes a blight on that neighborhood."
(Reporting by Jason Szep; Editing by Eddie Evans)
© Thomson Reuters 2021 All rights reserved.